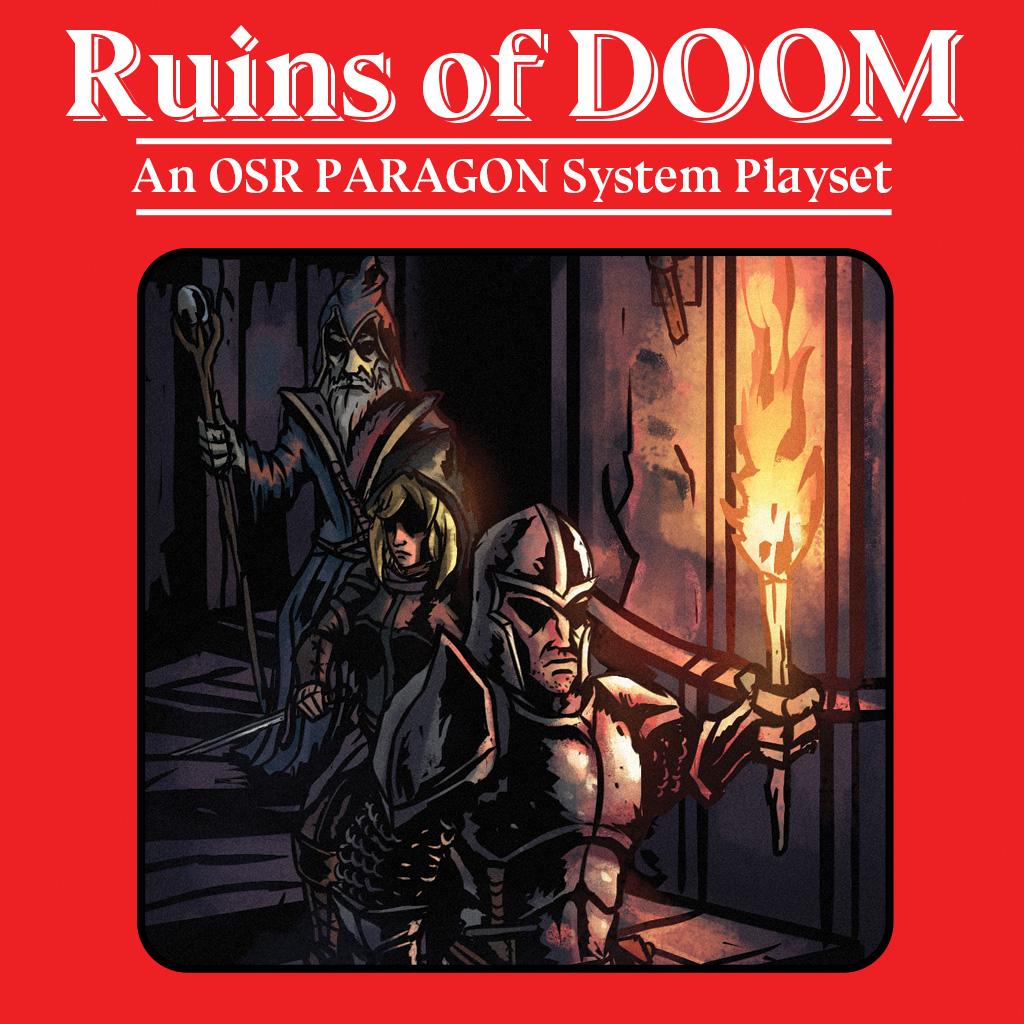 Ruins of DOOM: AGON Playset
RUINS OF DOOM is an Old-School Renaissance fantasy dungeon crawler playset for the PARAGON system from the AGON roleplaying game. A copy of AGON is required to play. For more on the PARAGON system, including how to publish your own playsets, visit AGON-RPG.com.
Ruins of Doom is an OSR fantasy dungeon crawler, inspired by Darkest Dungeon and Torchbearer - that means you can expect a game full of brutality, with a very high mortality rate. It's a low-magic fantasy game with a lot of random tables, dungeon crawling, dangerous enemies, and deadly traps.

If you want to play a game like that but with narrative mechanics supporting high players agency and modern conflict resolution… this playset is for you.
Are you and your friends brave enough to delve into the deeper ruins of the underworld? Can the dungeoneers survive their journey? Will someone collect a Doom's Shard, defeating the Eldritch Horrors?
If you dare… good luck.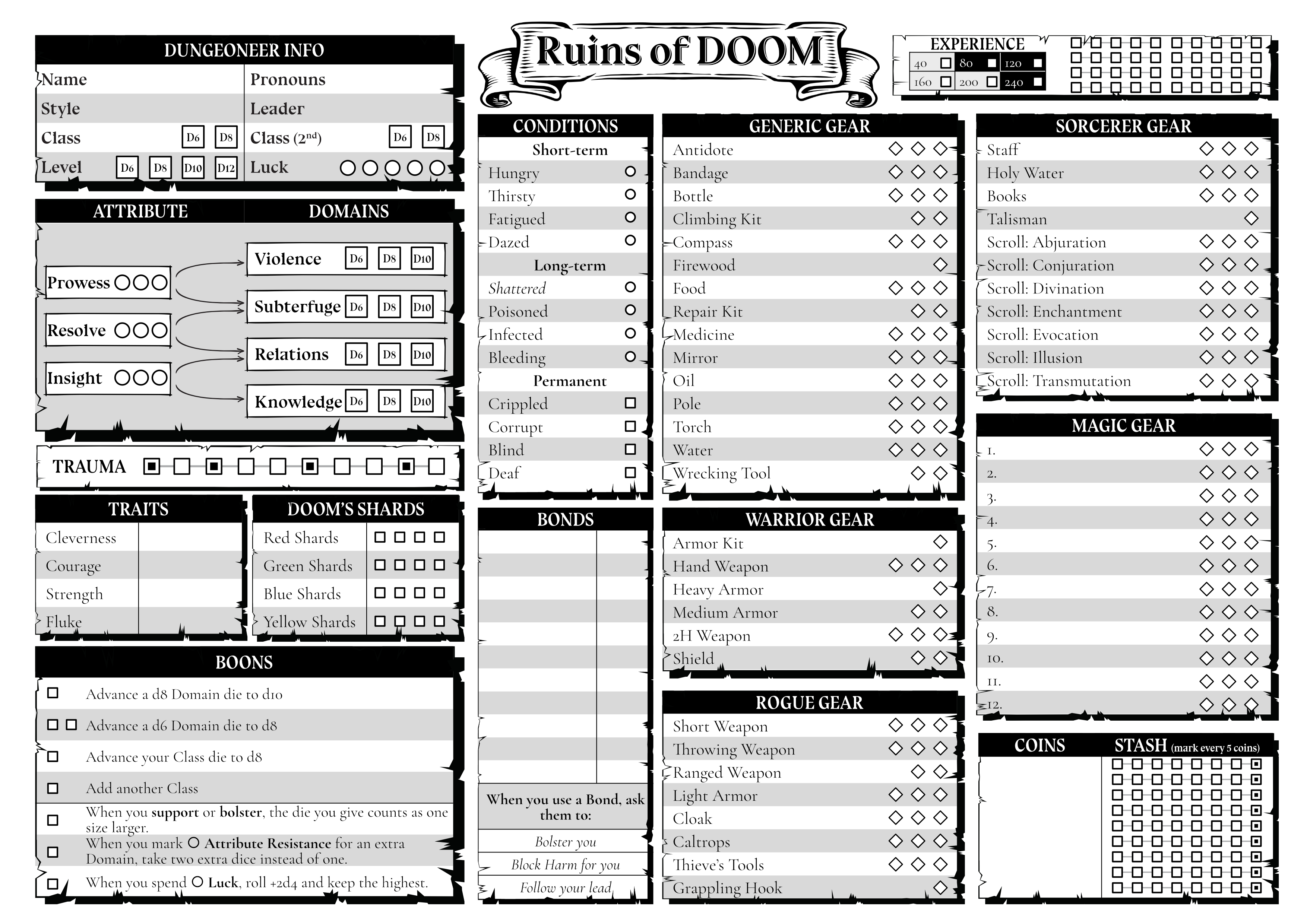 WHAT YOU WILL FIND IN THE GAME
The simplicity of a MODERN NARRATIVE GAME, like AGON rpg
The OSR GAME STYLE - rulings not rules
A FREE-FORM MAGIC system
Short-terms, Long-terms, and Permanent character's conditions
LOW PREP. GAME - includes a full guide to create an adventure and a dungeon full of traps, enemies, and treasures
A Bestiary with 20 different creatures
10 tables to generate random contents
A standard pdf character sheet or a simplified character sheet for online play.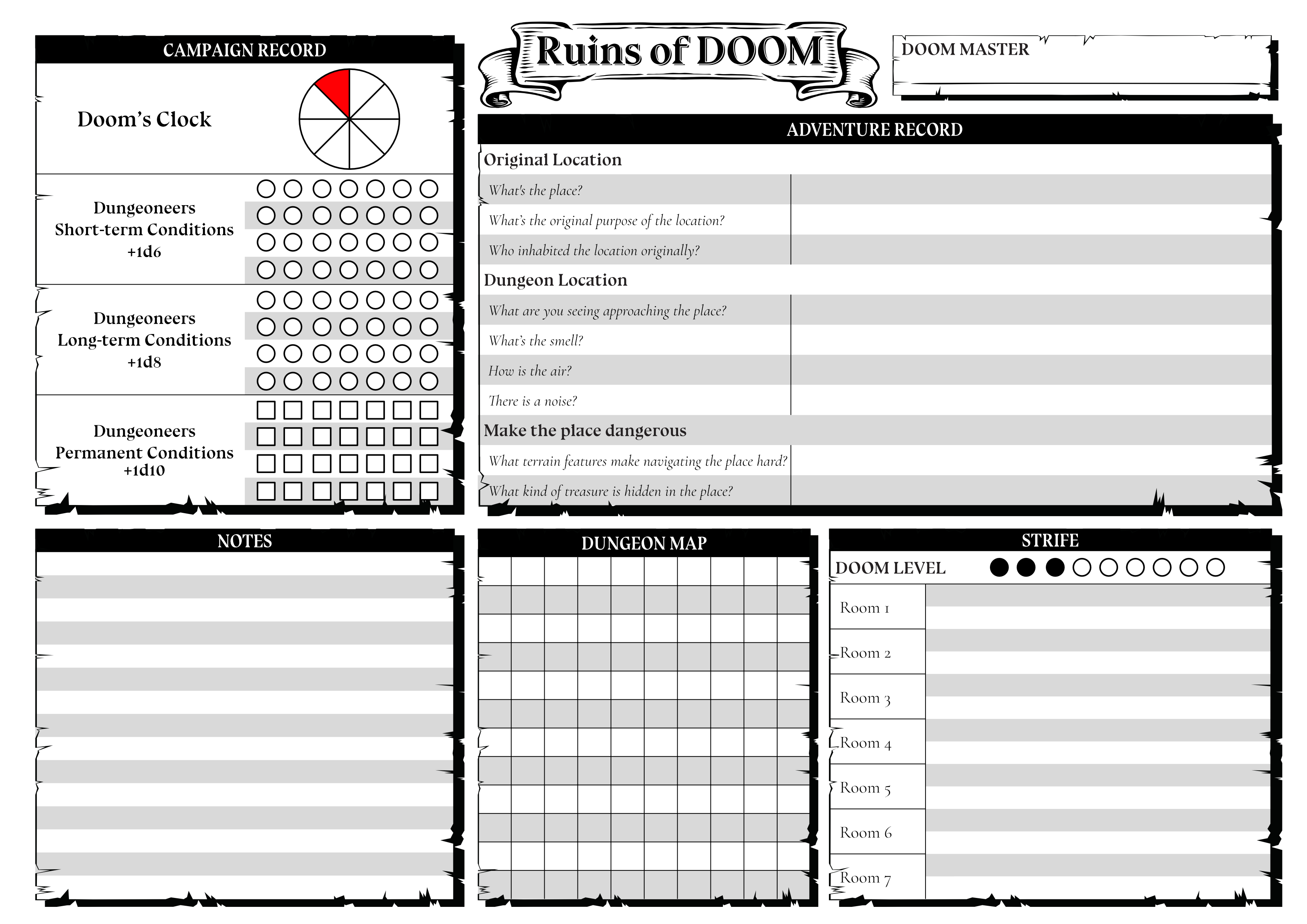 PRINTED VERSION
If you want a printed version, it's available on Amazon:
GAME INFORMATION
Number of players: 3-6
Age of players: 13+
Length: 2-4 hours per session
Page Count: 40
Purchase
In order to download this game you must purchase it at or above the minimum price of $3 USD. You will get access to the following files:
Ruins_of_Doom_sheets.pdf
213 kB
Ruins_of_Doom_pages_1.1.pdf
11 MB
Ruins_of_Doom_spreads_1.1.pdf
11 MB
Community Copies
Support this game at or above a special price point to receive something exclusive.
Free PDFs for those in need
Sales of Ruins of DOOM help others grab a free copy if their budget doesn't enable them to pay the listed price. If you can't afford a copy of Ruins of DOOM at the listed price, claim one of these free copies for the community.
Donate a Community Copy
For $7 you'll get a copy of Ruins of DOOM and donate a copy of the game for others to claim.